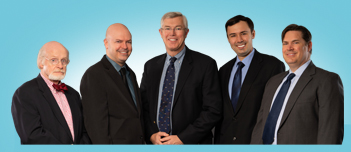 Our Practice
Ophthalmology Associates began when Arthur H. Keeney, M.D., opened his practice at Fourth and Broadway in the Heyburn Building in 1951. He recruited Edward C. Shrader, M.D., a fellow Willis Eye Hospital graduate to join him in 1958. Gradually the practice expanded and welcomed Charles O. Bruce, Sr., M.D., and Sheldon Schiller, M.D. Dr. Keeney left to assume the role of ophthalmologist-in-chief of Wills Eye Hospital, later re- turning to Louisville to become dean of the school of medicine.
Kenneth R. Jaegers, Sr., M.D., joined Ophthalmology Associates in 1972 and established the first retinal specialty practice in Louisville. The office moved to Suburban Hospital soon thereafter, and Dr. Jaegers was joined by Robert J. Kaiser, M.D., a cornea specialist in 1974, and Craig H. Douglas, M.D., who became our city's first pediatric ophthalmologist in 1978. Martha Keeney Heyburn, M.D., became a member in 1986, and two other legacies followed, Robb R. Shrader, M.D., specializing in glaucoma, and Kenneth R. Jaegers, Jr., trained in retina, in 1989 and 2000 respectively.
Following the retirement of both Dr. Jaegers, we welcomed Thomas W. Harper, M.D., and Jacob J. Yunker, M.D., to manage our retina service. Additionally, in November of 2018 we welcomed Victor A. Neamtu, M.D., to our team of retina specialists. Our main location is 3810 Springhurst Boulevard, Suite 100, and a second location in St. Mathews at the Springs Medical Center, 6420 Dutchmans Parkway, Suite 85. Ophthalmology Associates has strived to keep our focus on our patients' needs by providing state-of-the-art personalized care. Our office staff and physicians hope to continue this tradition of service.